THE SANDWICH OBSERVER IS NOW AVAILABLE DIGITALLY
The Sandwich Town Archives is proud to announce that the Sandwich Observer has been digitized and is ready to search. The Sandwich Observer was a local newspaper published between 1845 and 1899, as close as we can determine and included local news, advertisements and entertainment in the form of short stories or anecdoates. The Sandwich Observer can be searched by keyword or browed by date of publication. Thanks to Community Preservation funding, we will soon be adding digitized content of the Sandwich Independent and others. You can see The Sandwich Observer HERE.
A Universe of Stories Family Program: Science Tellers - Wednesday, July 24, 6:30-7:30 pm
Don't miss this action-packed and educational alien adventure using science experiments for special effects. It's totally out of this world!
---
Author/Paper Engineer Robert Sabuda -Tuesday, July 30 - 6:30 pm at the Library
Presented in partnership with Titcomb's Bookshop,we'll be visited by famed pop-up artist Robert Sabuda, one of the most innovative and inventive children's book creators known worldwide for his amazing pop-up paper engineering. His books include Alice's Adventures in Wonderland, The Wonderful Wizard of Oz, The Twelve Days of Christmas, The Night Before Christmas, The Winter's Tale, Peter Pan, Beauty and the Beast, to name but a few, have garnered numerous awards and have made the New York Times bestseller lists on many occasions.
He'll be talking about his newest book,
Believe
. All of life's possibilities are just a page turn away in this beautiful new pop-up book. Throughout, phrases and images evoking potential (an acorn, an egg, a paper airplane) are answered by a glorious 3-D image on the following spread (a towering tree, a flock of birds, a rocket soaring upward). An ideal gift for graduates from kindergarten to college and beyond, Believe is the perfect way to celebrate life's passages and look forward to new horizons. This event is FREE but a courtesy registration is requested. To get your ticket, please register
HERE
or in person at Titcomb's Bookshop.
Titcomb's Bookshop and the Sandwich Public Library present
An Evening with Richard Russo
Wednesday, July 31 - 7 pm at Sandwich Town Hall
The Pulitzer Prize-winning Russo will talk about his new novel, (his first stand-alone in a decade) Chances Are..., which comes out on July 30th.One beautiful September day, three sixty-six-year old men convene on Martha's Vineyard, friends ever since meeting in college during the 60s. Each man holds his own secrets, in addition to the monumental mystery that none of them has ever stopped puzzling over since a Memorial Day weekend right here on the Vineyard in 1971. Now, forty-four years later, as this new weekend unfolds, three lives and that of a significant other are displayed in their entirety while the distant past confounds the present like a relentless squall of surprise and discovery. Shot through with Russo's trademark comedy and humanity, Chances Are . . . also introduces a new level of suspense and menace that will quicken the reader's heartbeat throughout this absorbing saga of how friendship's bonds are every bit as constricting and rewarding as those of family or any other community.
Richard Russo is the author of eight novels, most recently Everybody's Fool and That Old Cape Magic; two collections of stories; and the memoir Elsewhere. In 2002 he received the Pulitzer Prize for Empire Falls, which like Nobody's Fool was adapted to film, in a multiple-award-winning HBO miniseries; in 2016 he was given the Indie Champion Award by the American Booksellers Association; and in 2017 he received France's Grand Prix de Littérature Américaine. He lives in Portland, Maine.
Books will be available for purchase at the event. Tickets are $8.00 and can be purchased at Titcomb's or online HERE.
Titcomb's Bookshop and the Sandwich Public Library present
Author Lisa Taddeo, "Three Women", in Conversation with Mindy Todd
Thursday, August 1st-6:30 pm-Sandwich Public Library
Titcomb's Bookshop and the Sandwich Public Library invites you for what promises to be a fascinating discussion with author Lisa Taddeo regarding her new book, Three Women. The discussion will be moderated by WCAI's Mindy Todd.
Three Women chronicles desire as you've never seen it before: a riveting account of the sex lives of three ordinary American women, based on nearly a decade of reporting.Lina, a homemaker in suburban Indiana, is a decade into a passionless marriage when she embarks on an affair that quickly becomes all-consuming and transforms her life. Sloane, a glamorous entrepreneur in the northeast, is married to a man who likes to watch her have sex with other men and women. Maggie, a high school student in North Dakota, begins a relationship with her English teacher that will have extraordinary consequences for them both-as well as the community in which they live.
For nearly a decade, Lisa Taddeo, an award-winning journalist and longtime contributor to New York magazine and Esquire, embedded herself with three everyday women to write this deeply immersive account of their erotic lives and longings. The result-shocking, powerful, and timely-reads like George Packer's The Unwinding, but for the state of female desire. Three Women is a major work from an exhilarating new voice. Tickets are FREE and available
HERE
or at Titcomb's Bookshop.
Wednesday, July 31 at 4:30 - 5:45 pm
Children & Families are invited to create a UFO or Space Ship
or Flying Saucer or..?? out of a cardboard box at home.Park at the Library and enjoy free popcorn and lemonade,watch cartoons and a short movie and admire all the great Space-themed vehicles at our FLY-in MATINEE Movie! Best for ages 4 and up.
Out of This World Nail Art
with Nicole Perullo
Teen Program (entering Grade 7 and Up)
Saturday, July 27 - 10:30 am to noon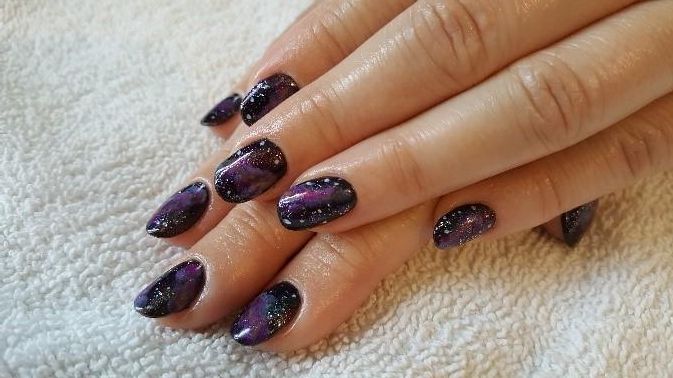 Come learn nail art that is out of this world. Watch and learn from Master Nail Technician Nicole Perullo. Learn how easy and fun it is to design amazing nails.
Please register for this program
HERE.
"SUMMER READING ISN'T JUST FOR KIDS!"
We have a galaxy of prizes for adult readers this summer. Check out a book from the library's UNIVERSE OF STORIES display. Fill out an entry form & drop it off at the adult circulation desk. Your name will be entered into our weekly drawing for a gift certificate to Cosmic Cannoli. Weekly winners beginning 7/19. All participants will be entered into our final grand prize drawing on August 23. Adult readers (ages 18 and up) Limited to one entry per week.
---